©2023 Keller and Heckman, LLP
Oregon to Increase Deposit on Containers; Expand Qualifying Container Types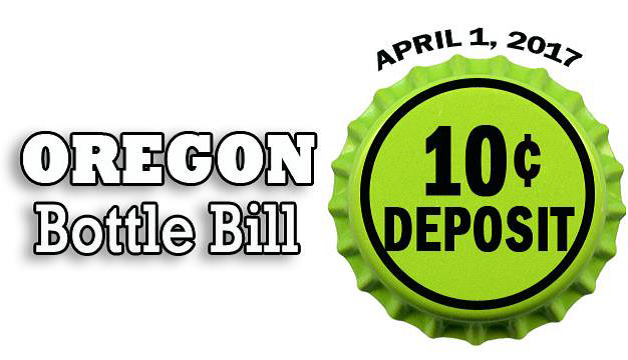 The redemption value on certain containers in Oregon will increase from 5 cents to 10 cents beginning April 1, 2017. Currently, Oregon's Bottle Bill—originally passed in 1971 and administered by the Oregon Liquor Control Commission (OLCC)—imposes a 5-cent container deposit on beer, soft drinks, water, and flavored water in metal, glass and plastic bottles, and cans three liters or less in size. Consumers can return the empty containers to stores or redemption centers and redeem their deposit. Retail stores then return the empty containers to a distributor or distributor cooperative and receive the deposit back for each container.
The beverage container deposit increase is one of several significant changes set in motion by 2011 amendments to the Bottle Bill. In particular, the 2011 amendments impose the increase if  OLCC determines that the number of beverage container returned for the refund was less than 80% of the total number of beverage container that were sold in the state for each of the two previous years. (ORS 459.705, "Refund value") The OLCC has calculated the statewide redemption rate as 68.26% in 2014 and 64.45% in 2015. The law further stipulates that the increase may not take place before 2017.
Another change as a result of under the 2011 amendments is the types of containers eligible for a refund will be expanded to include juices, teas, coffees, sports drinks, and any other beverage intended for human consumption except distilled liquor, wine, dairy products, and infant formula. The allow OLCC to exempt other beverages on January 1, 2018, or one year after it determines that at least 60% of beverage containers are returned to redemption centers (instead of stores), whichever comes first. Beer, soft drinks, and water will continue to be covered in containers that are 3 liters or less in size, but the new beverages will be covered only if they are in bottles or cans from 4 ounces to 1.5 liters in size. Metal cans that require a can opener will not be included. (ORS 459A.702)
OLCC has made available on its website downloadable signs to retailers to help them educate customers about the upcoming deposit and refund increase. The signs include the following statements:
Effective April 1, 2017, the Bottle Bill deposit and refund value will increase to 10¢ per container.
Starting April 1, 2017, containers that are labeled OR 5¢ will be accepted by retailers for the new refund value of 10¢.
Containers redeemed before April 1, 2017 will be refunded at the rate of 5¢ per container.
The law requires that "every beverage container sold or offered for sale in this state by a dealer shall clearly indicate by embossing or by a stamp, or by a label or other method securely affixed to the beverage container, the refund value of the container." (ORS 459A.720)
More information about the changes to the law can be found on OLCC's website.