TSCA, Food-Contact Substances and Other FDA-Regulated Products Seminar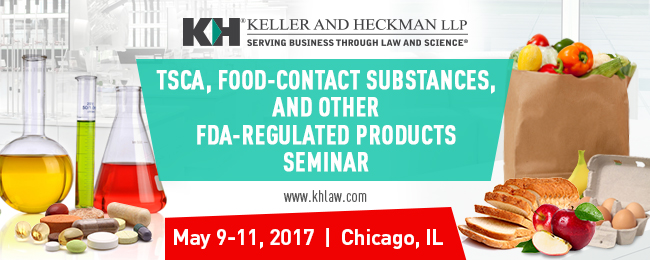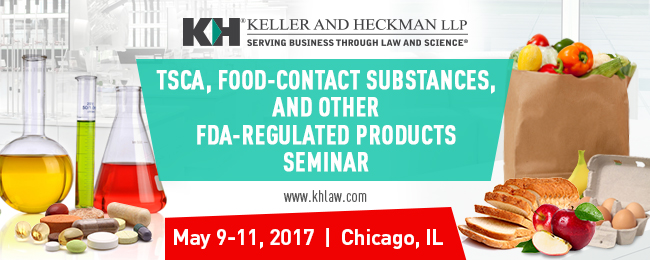 Keller and Heckman is proud to present a seminar designed by its attorneys and scientists that focuses on TSCA, food-contact substances, and FDA-regulated products. Regulatory and legal professionals new to the field will learn the basic rules and regulations of these areas. Those with existing knowledge can use this seminar to keep up-to-date on the latest developments.
Click here to view the agenda. 
Course Highlights:
Day 1 (May 9th): TSCA 
Changes to TSCA under Frank R. Lautenberg Chemical Safety Act
TSCA "New Chemical" PMN requirements, nomenclature issues
Requirements for existing chemicals, recordkeeping, imports, and exports
Inspections, EPA enforcement, penalties, self-auditing
Day 2 (May 10th): Food-Contact Substances
Establishing FDA compliance of food-contact substances
Tools for providing and interpreting customer assurances
FDA's Food Contact Notification Program
FDA's Draft Guidance on FCNs for Infant Formula Packaging
Day 3 (May 11th): FDA-Regulated Products
Primer on FDA's regulation of food, dietary supplements, cosmetics, drugs, and medical devices
Update on the implementation of the Food Safety Modernization Act
Understanding FDA's enforcement tools and latest enforcement trends
Course Details:
Dates:
Tuesday, May 9, 2017: TSCA 
Wednesday, May 10, 2017: Food-Contact Substances
Thursday, May 11, 2017: FDA-Regulated Products

Registration Fees:
 $1,095 for all 3 days if you register by April 7; $1,195 after April 7
$995 for any 2 days if you register by April 7; $1,095 after April 7
$795 for any single day if you register by April 7; $895 after April 7 
Yes, I would like to attend this seminar! Once you click "Yes", you will be redirected to a registration page where you can choose the entire course or select days.

Seminar Location:
Omni Chicago Hotel
676 North Michigan Avenue
Chicago, IL 60611

Hotel Reservations:
Book Omni Hotel Room

A block of rooms has been reserved at the Omni Chicago Hotel. The room rates are $259 per night. To benefit from these special rates, reservations must be received no later than April 6, 2017. To make reservations by phone, please call the hotel directly at (312) 944-6664 and mention "Keller and Heckman" to get the negotiated room rate of $259 per night, plus tax.
For additional information, please contact:

Sara A. Woldai
Manager, Marketing Meetings & Events
Keller and Heckman LLP
woldai@khlaw.com