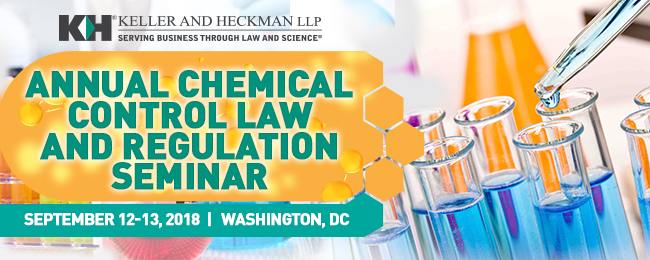 Keller and Heckman is pleased to announce its 16th annual Chemical Control Law and Regulation Seminar, being held September 12-13, 2018 in Washington, DC.
This complimentary webinar will provide an update on current state and federal regulatory issues that directly impact the 911 industry.  The webinar will cover a range of 911 related topics, including: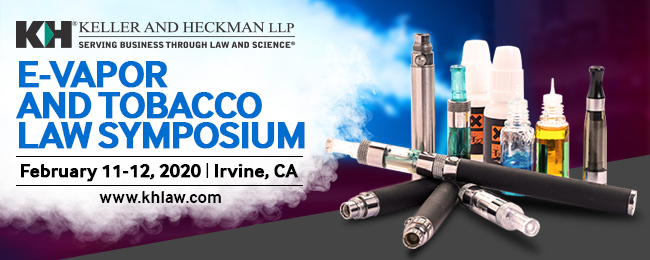 Keller and Heckman LLP is announcing its 4th annual E-Vapor and Tobac

With the rapidly evolving circumstances surrounding the COVID-19/coronavirus pande
The U.S. Food and Drug Administration (FDA) reported in the Spring 2020 Unified Agenda of Regulatory and Deregulatory Actions that it is proposing to amend the food additive regulations to allow a Food Contact Substance Notification (FCN) to become no longer effective for reasons other than safety.
U.S. Secretary of Agriculture Sonny Perdue and Food and Drug Administrator Commissioner Stephen M. Hahn, M.D, reiterated on June 24 that, "There is no evidence that people can contract COVID-19 from food or from food packaging." The declaration was part of a joint statement made in response to food export restrictions pertaining to COVID-19.
Vermont's single-use plastic bag ban takes effect on July 1, 2020. As background, HB 113 (Act 69) was signed by Governor Phil Scott on June 17, 2019. Exceptions to the ban include plastic bags used to pack loose items—such as fruits, vegetables, nuts, etc.—within a store and plastic bags for prescription medications and dry cleaning.
U.S. District Judge William B. Shubb (Eastern District of California) ruled on June 22 that California's Proposition 65 warning requirement for glyphosate violates the First Amendment of the United States Constitution. (See National Association of Wheat Growers et. al. v. Xavier Becerra, case number 2:17-cv-02401.)