Düsseldorf Food Packaging Law Seminar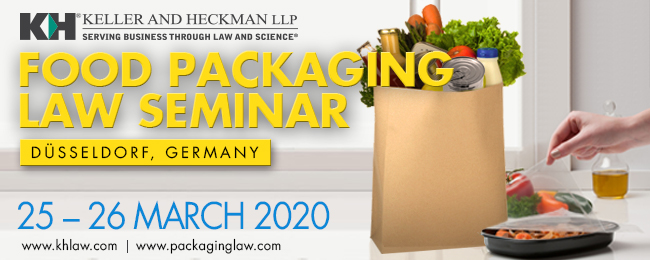 Keller and Heckman is pleased to announce its annual EU Food Packaging Law Seminar, being held 25-26 March 2020 in Düsseldorf, Germany. This comprehensive course is designed to keep regulatory, scientific, and legal professionals updated on the latest food packaging law developments.
Registration for this conference will be opening in mid-November 2019. 
Program highlights include:
Basics of EU Food Contact Law
Basics of U.S. Food Contact Law
Hot Topics in the EU and the U.S.
Regulation of Food Packaging under South America's MERCOSUR
Food Packaging Regulation Elsewhere Around the World, including China, and a specific focus on the legislative developments in Japan
Seminar Details:
Dates:
Wednesday, 25 March - Thursday, 26 March, 2020
Registration Fees:
€ 945 if you register by 19 February; € 1,145 after 19 February
Location: 
Hyatt Regency Düsseldorf
Speditionstrasse 19
Düsseldorf, Germany, 40221
For questions, please contact:
Sara A. Woldai
Manager, Marketing Meetings & Events
woldai@khlaw.com